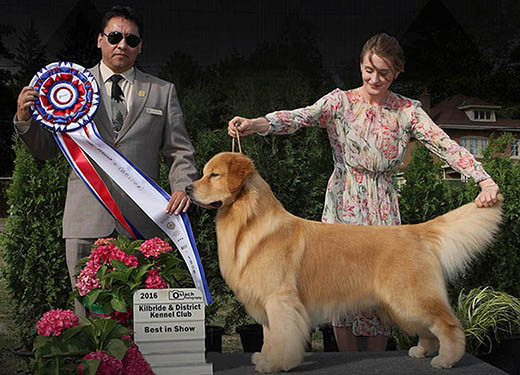 Albert is an athletic, moderate Golden Retriever weighing between 72-74 pounds. His happy-go-lucky attitude makes him a standout in a ring. His effortless movement creates the beautiful side gait that exemplifies correct conformation and balance. He has full dentition and correct scissors bite. He carries a correct coat and has a proper tail set. His impressive pedigree is rich with Goldens who have positively impacted the breed.
Albert's show career began in Canada with his co-owner Jo Anne Griffith. He completed his Canadian CH and American CH in a short period of time with limited showing. His American wins include a Best Puppy in Show, 2 Specialty Majors and Group Placements.
Albert returned to Canada in 2016 to begin his Specials career. Shown by Hailey Griffith, Albert quickly became Canada's #1 Golden Retriever and #5 Sporting dog. In 6 months Albert was awarded 2 Best in Shows, 1 Reserve Best in Show, multiple Group Placements (including 11 Group Firsts) and 40+ Best of Breeds. He is a Grand Champion and has completed the requirements for Show Dog Hall of Fame.